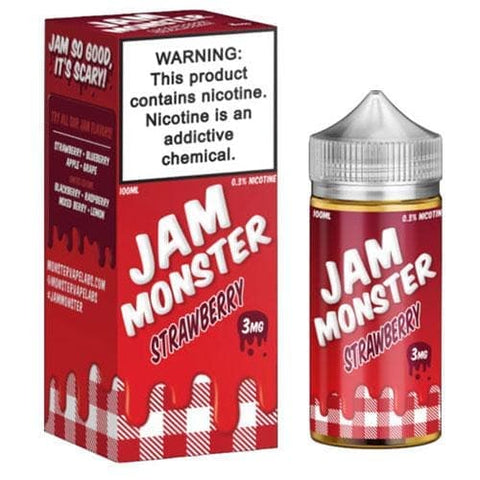 JAM MONSTER - STRAWBERRY 100ML
Indulge in the luscious world of flavor with Strawberry by Jam Monster! Picture sun-ripe strawberries and smooth jelly perfectly slathered on warm toast, kissed with a hint of butter. This classic spread achieves the ultimate harmony between fruity goodness and delightful sweetness. Brace yourself for an intensified vaping experience as the inhale unveils the essence of ripe strawberries, while the exhale leaves you with lingering notes of delicious jam.

Unlock the essence of Jam Monster Strawberry vape juice, a masterful recreation of your beloved breakfast staple. Immerse your senses in the exquisite blend of sweet strawberries and rich jam, intertwined with the subtle presence of fresh toast. This extraordinary vape juice delivers an all-day breakfast experience like no other. Prepare to be captivated by the delectable flavors that belong in your collection. Jam Monster Strawberry comes in a generous 100mL bottle and offers various strengths, including 0mg, 3mg, and 6mg.

Jam Monster takes pride in crafting timeless flavors that have been adored for generations. Their delightful jam-infused creations are unmatched in the industry, thanks to their commitment to high-quality ingredients. It's no wonder that Jam Monster has gained global recognition and become an industry favorite. Explore the diverse range of flavors offered by this extraordinary brand, and prepare to fall head over heels in love.

Jam Monster Strawberry vape juice presents a flavor profile that will keep you coming back for more. If the allure of complex breakfast-inspired vape juices ignites your taste buds, don't wait a moment longer to experience the wonders of Jam Monster Strawberry. Immerse yourself in the harmonious fusion of strawberries, jam, and toast, as it expertly recreates the nostalgic joy of your favorite quick and easy breakfast.

Product Details:

Brand: Jam Monster
Flavor: Strawberry
Bottle Size: 100mL
Bottle Type: Chubby Gorilla 
VG/PG: 75/25
Flavor Profile: Strawberry

 / Toast / Butter 

Made in USA
Nicotine Type:

Freebase

Available Nicotine Levels: 0mg / 3mg / 6mg
Package Includes:
1x Jam Monster - Strawberry 100mL