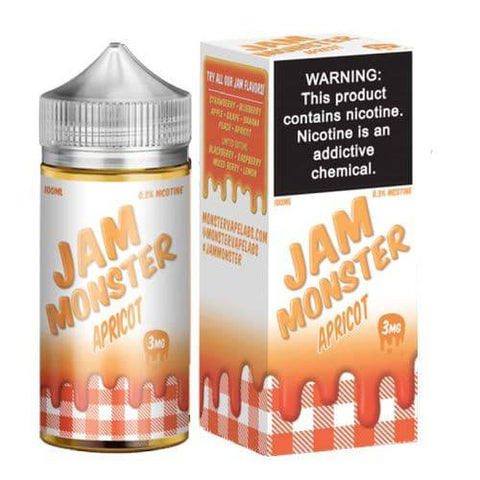 JAM MONSTER - APRICOT 100ML
Prepare to be astounded by Apricot, the unrivaled creation from Jam Monster e-liquid that will leave you craving more. This juice is truly a force to be reckoned with, delivering the ultimate homemade jam experience directly to your vape. Jam Monster has masterfully combined the finest breakfast essentials to craft a juice that will make you forget about skipping your morning meal.

Apricot by Jam Monster is a tantalizing fusion of velvety buttery toast, generously slathered with luscious apricot jam—just as it's boldly printed on the bottle! With every inhale, you'll savor the essence of freshly toasted white bread, perfectly golden and fragrant. As you exhale, prepare to be captivated by the enchanting undertones of sticky blackberry jam, adding a delightful finishing touch to your indulgence.

Indulge in Apricot as a delightful morning treat or savor it as a delectable reward after your mid-day meal. This extraordinary e-liquid is designed to elevate your vaping experience and ignite your taste buds with its irresistible flavors.

To fully immerse yourself in the world of expertly crafted e-liquids by Jam Monster, we recommend experiencing Apricot with one of our Starter Kits. Vape City USA is your gateway to unparalleled vaping pleasure, where you can explore an extensive range of top-notch products, including the finest e-liquids, cutting-edge vaporizers, and essential vape accessories.

Unleash your taste buds and embark on an extraordinary vaping journey with Apricot by Jam Monster. Don't miss out on this remarkable blend that will redefine your vaping experience. Shop now at Vape City USA and savor the magic of Jam Monster's artisanal e-liquid creations.
Product Details:

Brand: Jam Monster
Flavor: Apricot
Bottle Size: 100mL
Bottle Type: Chubby Gorilla 
VG/PG: 75/25
Flavor Profile: Apricot 

/ Toast / Butter 

Made in USA
Nicotine Type:

Freebase

Available Nicotine Levels: 0mg / 3mg / 6mg
Package Includes:
1x Jam Monster - Apricot 100mL