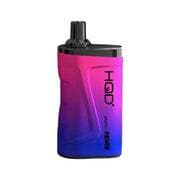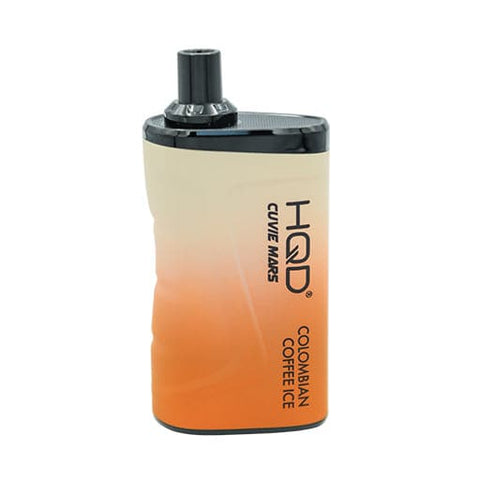 HQD Cuvie Mars Disposable 8000 puffs - 1PC
Unmatched Performance and Convenience
Experience the epitome of disposable vape excellence with the HQD Cuvie Mars Disposable 8000 puffs. This remarkable device from HQD's prestigious Cuvie Plus line offers unmatched performance and exceptional features. Equipped with a rechargeable USB-C 650mAh battery, the HQD Cuvie MARS Disposable 8000 puffs ensures you never run out of power. With a whopping 18mL of delectable e-liquid, this mighty device guarantees an extended and satisfying vaping experience with over 8000 puffs.
Exceptionally Rich E-Liquid Flavors
Delight your taste buds with HQD's exceptionally rich e-liquid flavors (23 flavors), setting them apart from the competition. With seven tantalizing flavors to choose from, including Ice Mint, Tobacco Coffee, and Lush Ice, you'll discover your personal favorite in no time. Each puff will immerse you in a world of flavor and satisfaction.
Portability and User-Friendly Design
Designed with portability in mind, the HQD Cuvie MARS Disposable 8000 puffs effortlessly fits in your pocket, making it the perfect companion for on-the-go vaping. Its sleek and compact design ensures easy handling and discreet usage. The user-friendly nature of the device allows for easy operation, ensuring a hassle-free vaping experience wherever you go.
Exceptional Vapor Production
Prepare to be mesmerized by the HQD Cuvie MARS's Disposable 8000 puffs exceptional vapor production. Each puff delivers clouds of perfection, allowing you to enjoy a satisfying and immersive vaping experience. Whether you're a cloud chaser or simply seeking a smooth and flavorful vape, the HQD Cuvie MARS Disposable 8000 puffs will exceed your expectations.
Explore Disposable Vape Bundles
When it comes to disposable vape devices, the HQD Cuvie MARS Disposable 8000 puffs reigns supreme. It's a foolproof choice for those seeking unrivaled performance and convenience. Don't miss out on the opportunity to explore our collection of disposable vape bundles, offering even more options to enhance your vaping pleasure. Experience the pinnacle of disposable vaping with the HQD Cuvie MARS Disposable 8000 puffs.
HQD Cuvie Mars Disposable 8000 puffs Details:
Battery Capacity: 650mAh (USB cable included)
Power Range: 7~12W
Puff Count: 8000+ Puffs
E-liquid Capacity: 18ml
Concentration: 50mg/ml
Resistance: 1.4Ω
Flavors: 23 Available Flavors
HQD Cuvie Mars Disposable 8000 puffs Flavors:
Black Dragon




Black Ice




Blueberry Lemonade




Blueberry Raspberry




Clear




Colombian Coffee Ice

Cranberry Grape




Dessert Breeze




Grapey




Ice Mint




Lime Passionfruit




Lush Ice




Mango Honeydew Ice




Mango Peach Watermelon




Mango Yogurt Ice Cream




Peach Berry




Purple Rain




Rainbow




Raspberry Watermelon




Strawberry Banana




Strawberry Pina Colada




Summertime




Tobacco Coffee




White Gummy



HQD Cuvie Mars Disposable 8000 puffs Includes:
1x 

HQD Cuvie Mars Disposable 8000 puffs
Genuine products
I was so worried that I was gonna get a knock off with the LOW price I paid for these HQD cuvie Mars. I got 5 with shipping for around 53$. They have a scan code to check if they are real and thankfully they are. Strawberry banana is so good and I have quit smoking cigarettes because of them. The purple rain is great as well. I'm not fond of white gummy , it tastes like powdery perfume. Just to throw out my experience with rainbow flavor it is horrible. Like inhaling carpet powder. However fast shipping, low prices (like 20+ dollars less than in stores) I will always purchase from VAPE CITY USA and be able to order in bulk.
HQD CUVIE MARS
Strawberry banana, and purple rain both have an awesome flavor. White Gummy is ok, rainbow tastes like powdery perfume (awful). I was iffy on purchasing since the price seems to good to be true, but they checked out to be authentic products since there's a code to scan so you know its no fake.