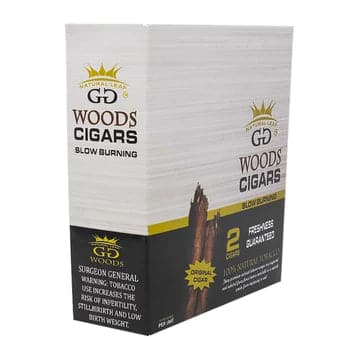 GG WOODS ORIGINAL CIGAR WRAPS 15CT BOX
Experience the epitome of excellence with GG Grabba, your ultimate destination for premium grabba leaf tobacco products. Unleash your inner connoisseur with the exquisite GG Woods Original Cigar Wraps, crafted to elevate your smoking ritual to new heights. Immerse yourself in a world of unparalleled flavor and lasting satisfaction.

Indulge in the art of rolling up your smoke of choice with GG Woods Original Cigar Wraps, meticulously designed to enhance your smoking experience. Imbued with rich, natural goodness, these wraps ensure each puff is a celebration of delectable flavors that linger long after exhaling.

At Vape City USA, we pride ourselves on providing the best prices for the GG Woods Original Cigar Wraps, allowing you to savor premium quality at an unbeatable value. Don't settle for anything less than extraordinary—claim your slice of smoking perfection today.

Unlock a realm of flavor and satisfaction with GG Grabba's GG Woods Original Cigar Wraps. Explore our wide selection and ignite your senses with the finest grabba leaf tobacco products available. Embrace the true essence of tobacco craftsmanship and elevate your smoking journey with Vape City USA, your premier destination for uncompromising quality.
Package Includes:
1x GG Woods Original Cigar Wraps 15ct Box