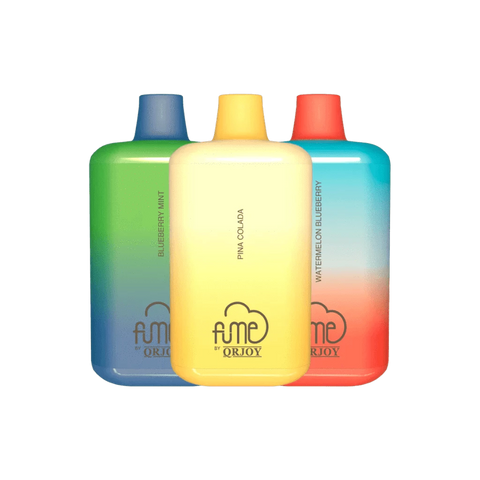 Fume RECHARGE 5000 - 3 pack
Experience maximum flavor variety and convenience with the Fume RECHARGE 3 Pack. This bundle gives you 3 high-capacity rechargeable vapes, each delivering over 5000 satisfying puffs.
Each lightweight Fume RECHARGE houses a built-in 650mAh battery that repowers your vaping pleasure anytime with a USB-C charge. No more disposables running dry too quickly.
With 3 devices, enjoy a mix of smooth 5% nic salt ejuice flavors like Lush Ice, Mint Ice, and Pina Colada Strawberry. The advanced mesh coils optimize taste and vapor.
The Fume RECHARGE 3 pack format lets you keep a recharged RECHARGE 5000 on hand at all times. Share the vaping experience with friends. Or explore the 24 flavor options at your own pace.
For unlimited rechargeable satisfaction, grab the Fume RECHARGE 3 Pack. With 15,000 puffs ready to go, true convenience is within reach.
Fume RECHARGE 3 pack Details:
Size: 13ml
Nicotine Strength: 5.0%
Battery Capacity: USB-C Rechargeable 650mAh (cable not included)
Puff Count: 5000+ Puffs
Mesh Coil Integrated
Flavors: 24

 

Available Flavors
Fume RECHARGE 3 pack  

Flavors:
Apple Watermelon

Black Ice

Blue Razz

Blueberry Kiwi Ice
Blueberry Mint

Jasmine Tea

Lemon Mint

Lush Ice

Mint Ice
Orange Soda

Passion Fruit Mango

Passion Fruit Peach

Peach Banana

Peach Strawberry

Peach Watermelon

Pina Colada

Pina Colada Guava

Pina Colada Strawberry

Sour Apple

Strawberry Banana
Strawberry Kiwi

Strawberry Watermelon
Watermelon Blueberry

Watermelon Strawberry
Package Includes: