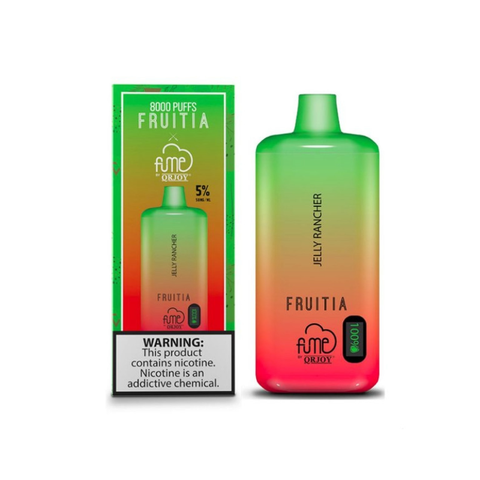 Fume Fruitia 8000 - Jelly Rancher
Treat yourself to sweet fruit candy bliss with the Jelly Rancher flavor of the Fume Fruitia 8000 disposable vape. This flavor captures the taste of the classic chewy fruit candies in every puff. Bursts of sweet cherry, lemon, blue raspberry, and other fruity candy flavors dance on your taste buds.
The powerful 700mAh battery and large 18mL pod allows over 8000 puffs to enjoy this candy store in a vape. The advanced mesh coil optimizes vapor production so you can savor the sugary sweet flavor fusion. With no refilling or recharging needed, the Jelly Rancher edition makes enjoying these nostalgic fruit candies easier and more convenient than ever.
Whether you're looking to satisfy a sweet tooth or want a sweet fruit candy throwback, Fume Fruitia 8000 Jelly Rancher hits the spot. The lip-smacking sweetness combined with the portability of this disposable vape makes it the perfect treat anytime your candy craving strikes. Ditch the sticky wrappers and enjoy your favorite chewy fruit candies anytime with the Fume Fruitia 8000 Jelly Rancher edition.
Device Details:
Size: 18mL
USB-C Rechargeable
Silicone Mouthpiece
Puff Count: 8000+ Puffs
Nicotine Strength: 5.0%
Battery Capacity: 700mAh
Coil: Upgraded Mesh Coil
Battery & Liquid Level Screen
Flavors: 14 Available Flavors
Flavors:
Blue Slushy

Bomb Pop

Caribbean Breeze

Clear

Jelly Rancher

Melon Berries

Pacific Cooler

Peachy Ringz

Pink Burst

Spearmint

Strawberry Beltz

Tobacco

Tropical Paradise

White Gummy
Package Includes:    
1x Fume Fruitia Jelly Rancher Vape Device