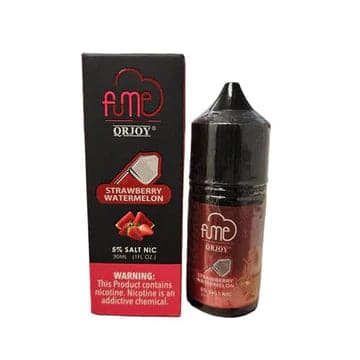 FUME E-LIQUID - STRAWBERRY WATERMELON 30ML
Experience the ultimate all-day vaping pleasure with Fume Strawberry Watermelon Salt. Indulge in the delectable blend of juicy strawberries and refreshing watermelon, meticulously crafted to create an extraordinary flavor sensation. Originally introduced in Fume's highly popular disposable devices, this exceptional e-liquid is now available for you to refill your beloved pod or tank.

Fume Vape E-Liquid brings you the same incredible flavors that have made their disposable brand a top-seller in the vaping industry. Now, you can enjoy these mouthwatering tastes in the form of premium e-juice, tailor-made for the ever-growing market of refillable vape devices.

Immerse yourself in the tantalizing notes of succulent strawberries and crisp watermelon, perfectly balanced to deliver an unforgettable vaping experience. Each inhale will transport your senses to a world of pure bliss, leaving you craving for more.

Not only does Fume Vape E-Liquid offer exceptional taste, but it also provides the freedom to personalize your vaping experience. With its compatibility across a wide range of refillable devices, you have the flexibility to explore various setups and find your perfect vaping style.

Don't miss out on this extraordinary opportunity! Treat yourself to the remarkable flavors of Fume Vape E-Liquid today and elevate your vaping journey to new heights. Don't settle for anything less than perfection—indulge in the deliciousness of Fume Vape E-Liquid now.

Product Details:
Brand: Fume
Flavor: Strawberry Watermelon
Bottle Size: 30mL
Bottle Type: Chubby Unicorn Bottle
VG/PG: 50/50
Flavor Profile: Strawberry / 

Watermelon

Made in USA
Nicotine Type: Salt Nicotine
Nicotine Level: 50mg
Package Includes:  
1x Fume E-Liquid - Strawberry Watermelon 30mL