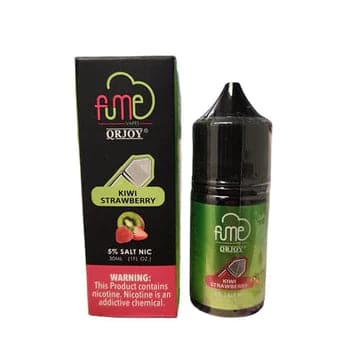 FUME E-LIQUID - KIWI STRAWBERRY 30ML
Indulge in the irresistible allure of Fume Kiwi Strawberry Salt, an exquisite fusion of luscious kiwi and succulent strawberry. This harmonious blend strikes the perfect balance between sweetness and tanginess, leaving your taste buds yearning for more. Originally introduced in Fume disposable devices, the sensational Fume Kiwi Strawberry is now available as an e-liquid, allowing you to refill your beloved pod or tank with ease.

Prepare to be captivated by the latest offering from one of the most sought-after disposable brands in the industry. Introducing Fume Vape E-Liquid—a groundbreaking innovation that brings the unparalleled flavors you adore into the realm of e-juice. Savor the familiar and delectable tastes in a form specifically designed for the vast array of refillable vape devices saturating the market.

With Fume Vape E-Liquid, you can elevate your vaping experience to new heights. The carefully crafted flavors are expertly blended to deliver an explosion of taste that will tantalize your senses. Say goodbye to monotony and embrace the tantalizing flavors of Fume Kiwi Strawberry as they dance upon your palate.

Unlock the door to a world of endless vaping pleasure. Treat yourself to the mouthwatering delight of Fume Vape E-Liquid today and experience the pinnacle of flavor innovation. Don't miss out on this extraordinary opportunity to enhance your vaping journey with the unrivaled deliciousness of Fume. Order your bottle of Fume Vape E-Liquid now and immerse yourself in a vaping experience like no other.
Product Details:
Brand: Fume
Flavor: Kiwi Strawberry
Bottle Size: 30mL
Bottle Type: Chubby Unicorn Bottle
VG/PG: 50/50
Flavor Profile: 

Kiwi / Strawberry / Sweet / Sour

Made in USA
Nicotine Type: Salt Nicotine
Nicotine Level: 50mg
Package Includes:  
1x Fume E-Liquid - Kiwi Strawberry 30mL