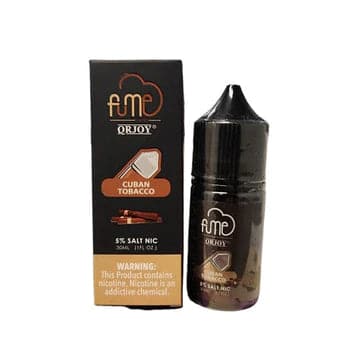 FUME E-LIQUID - CUBAN TOBACCO 30ML
Experience the allure of the Caribbean with Fume Cuban Tobacco Salt. Indulge in the irresistible sweetness of this exquisite cigar tobacco flavor, transporting you to the sun-kissed shores of Havana. Originally crafted for Fume disposable devices, this captivating essence can now be yours to savor, as you effortlessly refill your favorite pod or tank with Fume e-liquids.

We are thrilled to unveil Fume Vape E-Liquid, the latest sensation from one of the most sought-after disposable brands in the industry. Brace yourself for an extraordinary vaping experience as we bring you the same phenomenal flavors you've come to adore, now available in convenient E-Juice form. Finally, you can enjoy the enticing aromas and delectable tastes you crave, perfectly tailored for all your refillable vape devices.

Embrace the allure of Fume Vape E-Liquid and unlock a world of limitless indulgence. Whether you're a seasoned vaper or just beginning your journey, our premium e-liquid range guarantees an unmatched sensation with every puff. Crafted with the utmost care and attention to detail, our flavors will tantalize your taste buds and leave you craving for more.

Say goodbye to mediocre vaping experiences and embrace the extraordinary. Elevate your vaping ritual with Fume Vape E-Liquid – the epitome of quality, flavor, and satisfaction. Join the countless enthusiasts who have already discovered the secret to ultimate vaping bliss.

Don't miss out on this sensational offering. Purchase your very own Fume Vape E-Liquid today and let your senses embark on a breathtaking journey.  
Product Details:
Brand: Fume
Flavor: Cuban Tobacco
Bottle Size: 30mL
Bottle Type: Chubby Unicorn Bottle
VG/PG: 50/50
Flavor Profile: Tobacco / Sweet / Cigar
Made in USA
Nicotine Type: Salt Nicotine
Nicotine Level: 50mg
Package Includes:  
1x Fume E-Liquid - Cuban Tobacco 30mL