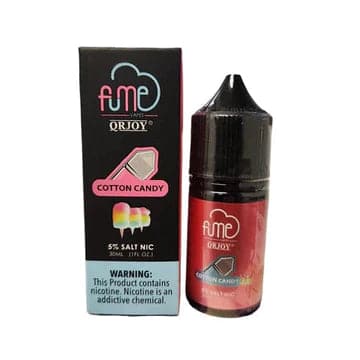 FUME E-LIQUID - COTTON CANDY 30ML
Experience the enchantment of your cherished childhood memories with Fume Cotton Candy Salt, a cotton candy flavor that will transport you back in time. Originally crafted for Fume disposable devices, this delightful essence is now ready to infuse your favorite pod or tank with pure vaping pleasure. Brace yourself for something extraordinary from one of the most sought-after disposable brands in the industry. Welcome to the world of Fume Vape E-Liquid!

Indulge in the irresistible allure of Fume Vape E-Liquid, as it brings to life the phenomenal flavors you've come to adore. Imagine the joy of relishing those beloved tastes, now conveniently available in the form of tantalizing E-Juice, catering to the ever-growing range of refillable vape devices. Unleash your cravings and seize the opportunity to acquire your own bottle of mouthwatering Fume Vape E-Liquid today, exclusively at Vape City USA.

Key Features:
Nostalgic Bliss: Immerse yourself in the reminiscent goodness of cotton candy, evoking cherished memories of your carefree childhood.
Versatile Compatibility: Refill your preferred pod or tank with Fume Vape E-Liquid, designed to seamlessly accommodate various refillable vape devices.
Renowned Excellence: From the creators of the highly acclaimed Fume disposable devices, experience the same exceptional quality in every drop of Fume Vape E-Liquid.
Expansive Variety: Explore a diverse range of amazing flavors, ensuring there's a delectable option to satisfy every palate.

Benefits:
Exquisite Taste Journey: Elevate your vaping experience with the delectable cotton candy flavor, embracing pure indulgence with each inhale.
Cost-Effective Solution: By refilling your pod or tank with Fume Vape E-Liquid, you can enjoy your favorite flavors for longer, saving you money in the long run.
Environmental Consciousness: Reduce waste by opting for Fume Vape E-Liquid, a sustainable alternative to disposable devices, without compromising on taste.
Unleash Your Creativity: Mix and match different flavors of Fume Vape E-Liquid to create your own unique combinations, amplifying your vaping adventures.

Unlock the gateway to unparalleled vaping pleasure and ignite your senses with Fume Vape E-Liquid. Don't miss out on this extraordinary opportunity to savor the flavors of your dreams. Secure your bottle of Fume Vape E-Liquid today, exclusively at Vape City USA, the ultimate destination for discerning vape enthusiasts.
Product Details:
Brand: Fume
Flavor: Cotton Candy
Bottle Size: 30mL
Bottle Type: Chubby Unicorn Bottle
VG/PG: 50/50
Flavor Profile: Sweet / Candy
Made in USA
Nicotine Type: Salt Nicotine
Nicotine Level: 50mg
Package Includes:  
1x Fume E-Liquid - Cotton Candy 30mL