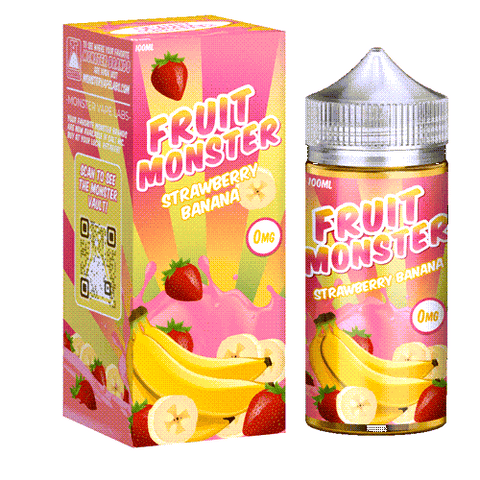 FRUIT MONSTER - STRAWBERRY BANANA 100ML
Experience the ultimate delight in every puff with Fruit Monster Strawberry Banana by Jam Monster. Prepare to be captivated by billows of delectable vapor, as this newly developed blend takes center stage in the industry's most popular vape juice brands.

Indulge in the Perfect Fusion of Fruity Bliss

Crafted exclusively for the Fruit Monster collection, this premium vape juice blend is a flawless marriage of fruit flavors. Succulent ruby red strawberries and the ripest, creamiest bananas intertwine, creating an unrivaled symphony of taste that will soothe your senses. Prepare yourself for an all-day vape that will take your experience to new heights.

Exceptional Quality in Every Bottle

Jam Monster, renowned worldwide for their exceptional vape juice creations, has once again delivered a masterpiece. Fruit Monster Strawberry Banana is a testament to their commitment to crafting premium blends that leave an everlasting impression. Available in a generous 100mL bottle, this vape juice is offered in various nicotine strengths, including 0mg, 3mg, and 6mg, ensuring a customized experience tailored to your preferences.

Embrace the Reliability of Jam Monster

When it comes to impeccable flavors and trusted manufacturing, Jam Monster stands as a titan in the industry. Based in Orlando, Florida, this reputable brand has solidified its position as one of the world's largest vape juice manufacturers. With an extensive range of blends featuring fruits, desserts, and tantalizing menthol combinations, Jam Monster guarantees satisfaction in every bottle.

Join the Fruit Monster Revolution

Elevate your vaping journey with the remarkable addition of Fruit Monster Strawberry Banana to this ever-expanding collection of flavors. Immerse yourself in a whirlwind of juicy strawberries and irresistible bananas, as the harmonious blend dances on your palate. Get ready to succumb to a taste you simply can't resist.

Unlock a World of Flavor Today!
Product Details:

Brand: Fruit Monster
Flavor: Strawberry Banana
Bottle Size: 100mL
Bottle Type: Chubby Gorilla 
VG/PG: 75/25
Flavor Profile:

Strawberry / Banana / Creamy / Sweet

Made in USA
Nicotine Type: Freebase
Available Nicotine Levels: 0mg / 3mg / 6mg
Package Includes:
1x Fruit Monster - Strawberry Banana 100mL