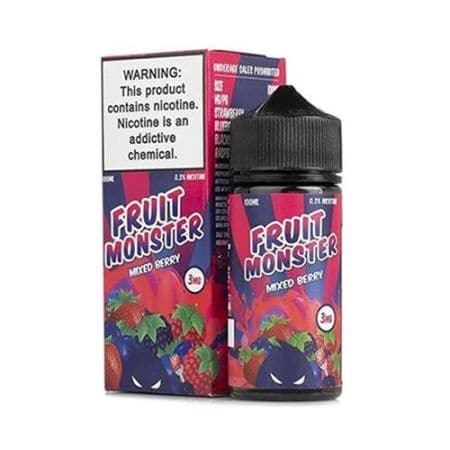 FRUIT MONSTER - MIXED BERRY 100ML
Introducing Fruit Monster Mixed Berry Vape Juice: Immerse Yourself in a Tangy Symphony of Summer Delights

Experience the ultimate summer sensation with Fruit Monster Mixed Berry vape juice. Delight your senses with its tantalizing fusion of tangy, blissful, and fruity flavors, designed to satisfy your deepest cravings. Prepare to be captivated by this extraordinary blend that will leave you begging for more.

Discover the Essence of Fruit Monster Mixed Berry Vape Juice: A Unique Blend of Flavorful Magic

Unleash the power of Fruit Monster Mixed Berry by Jam Monster, a vape juice masterpiece crafted from a harmonious trio of flavors. Indulge in the zesty allure of blackberry, the vibrant burst of raspberry, and the luscious sweetness of blueberry. These succulent berry flavors unite in perfect harmony, creating an unparalleled vaping experience that you won't find anywhere else.

Embark on a Journey with Fruit Monster: Unleash Your Vaping Potential

Step into the extraordinary world of Fruit Monster, a premium vape juice collection proudly brought to you by the renowned brand Jam Monster. For years, Jam Monster has been an industry trailblazer, delivering revolutionary flavors and cherished collections such as Ice Monster, Frozen Fruit Monster, PB & Jam Monster, and many more. Vapers worldwide trust Jam Monster to satisfy their vaping desires, and Fruit Monster is their latest triumph.

Immerse Yourself in Intense Flavor: A Vaping Experience Like No Other

From the moment you take your first puff, Fruit Monster Mixed Berry by Jam Monster will sweep you off your feet. Dive into a pool of succulent blackberries, tangy raspberries, and mouthwatering blueberries. Every inhalation delivers an explosion of flavors that will leave you craving more. Indulge in the exceptional quality that Fruit Monster consistently provides, ensuring each and every puff is a delectable delight.

Discover Your New All-Day Vape: Tangy, Tasty, and Simply Irresistible

Fruit Monster Mixed Berry by Jam Monster is more than just an exceptional vape juice; it's a companion you won't want to be without. Fall in love with its tangy yet tantalizing taste, and let it become your go-to flavor. Join the ranks of those who have found their favorite vape, and elevate your vaping experience to new heights with Fruit Monster Mixed Berry by Jam Monster.
Product Details:

Brand: Fruit Monster
Flavor: Mixed Berry
Bottle Size: 100mL
Bottle Type: Chubby Gorilla 
VG/PG: 75/25
Flavor Profile:

Strawberry / Blackberry / Raspberry / Blueberry / Sweet

Made in USA
Nicotine Type: Freebase
Available Nicotine Levels: 0mg / 3mg / 6mg
Package Includes:
1x Fruit Monster - Mixed Berry 100mL