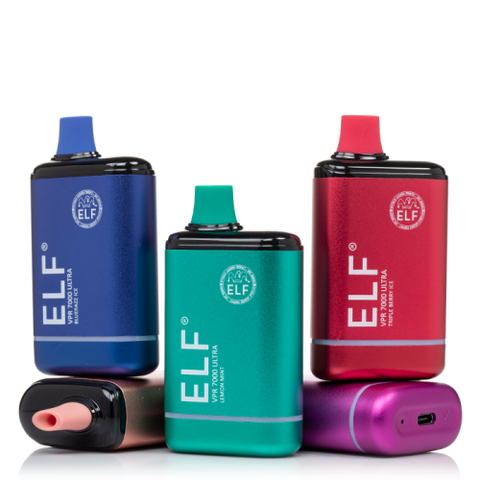 ELF VPR 7000 ULTRA DISPOSABLE VAPE DEVICE - 10PK
An Ocean of Flavor: Dive into a World of Exceptional Taste
Unleash your senses and embark on a vaping adventure like no other with the ELF VPR 7000 Disposable. This revolutionary device is crafted to elevate your vaping experience, providing unparalleled flavor and convenience in every puff.
Indulge in Sensational Flavors
The ELF VPR 7000 Disposable is a gateway to a world of exceptional taste. With its impressive 11mL prefilled capacity, this device ensures an abundant supply of your favorite e-liquid flavors. Immerse yourself in a symphony of delightful sensations from the very first inhale to the last exhale. Each puff delivers an explosion of flavor that will captivate your taste buds and leave you craving for more. Get ready to experience vaping like never before.
Unrivaled Convenience
Say goodbye to the hassle of refills and complicated setups. The ELF VPR 7000 Disposable is designed with convenience in mind. With a whopping 7000+ puffs, this device offers an extended vaping experience without the need for maintenance. Simply unwrap, inhale, and enjoy the smooth, effortless draw. It's the perfect choice for on-the-go vaping enthusiasts who value simplicity without compromising on flavor.
Discover More with Disposable Vape Bundles
Looking to explore a variety of flavors? Check out our collection of disposable vape bundles. Each bundle features a curated selection of e-liquid flavors, allowing you to discover new favorites and expand your vaping horizons. From refreshing fruits to decadent desserts, there's a bundle to suit every palate. Elevate your vaping journey and dive into a realm of endless flavor possibilities.
Device Details:
Size: 11ml
Nicotine Strength: 5.0%
Battery Capacity:

 

USB-C Rechargeable 700mAh (

cable not included

)

Puff Count: 7000+ Puffs
Flavors: 18 flavors available
Flavors:
Black Ice

Blue Razz Ice
Kiwi Strawberry
Lemon Mint
Miami Mint
Mixed Berry
Peach Ice
Pineapple Coconut
Pineapple Strawana
Rainbow Candy
Strawberry Banana
Strawberry Watermelon
Strazz
Triple Berry Ice
Tropical Rainbow Blast
Watermelon Bubblegum
Watermelon Cantaloupe Honeydew
Watermelon Ice
Package Includes:  
10x ELF VPR 7000 ULTRA Disposable Vape Device