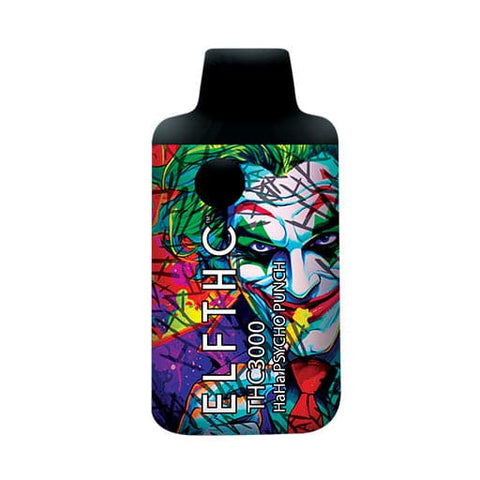 ELF TCH THC3000 - HaHa Psycho Punch
Get ready for a flavorful psycho punch with the HaHa Psycho Punch ELF THC THC3000 disposable vape. This sativa-leaning blend offers an energetic buzz paired with tangy citrus flavors. Just inhale from the ergonomic mouthpiece to engage the smooth ceramic coil system.
The compact, pocket-friendly design houses a rechargeable battery and 3mL of Delta 8, THCP and THCX terpene-rich resin for enduring vaping enjoyment. You'll taste hints of diesel, orange and lemon for a tangy psycho punch. Easily monitor your THC intake with the large viewing window.
With its convenient draw-activated firing and discreet shape, this disposable THC vape delivers uplifting effects and zesty flavors for any adventure. It sticks to federal regulations with less than 0.3% THC.
If you seek an energizing kick alongside mouthwatering citrus flavors, reach for the HaHa Psycho Punch ELF THC THC3000. Let the tangy terpenes deliver a flavorful psycho punch and elevate your vaping experience. Unlock the magic today with this industry-leading disposable vape.
Device Details:
Integrated Rechargeable Battery




3 Gram




Mixed Blends; Delta 8, HHC, HHCP, THCP, and THCX




Stain Specific Terpenes




Draw-Activated Firing Mechanism




Ergonomic Mouthpiece




Large Viewing Window




Ceramic Coil




Contain Less Than 0.3%



Strain/Flavors:
Supreme Jellybean Kush (Hybrid/Indica) - 

D8 + THC-P + THC-X


Grape Slur-P #4

 (Hybrid/Indica) - D8 + THC-P + THC-X


Sour Pink Lemonade

 (Hybrid/Indica) - D8 + THC-P + THC-X


Black Domina X 24K

 (Hybrid/Indica) - D8 + THC-P + THC-X


Razz Tiger Express Auto (Hybrid/Sativa) - 

D8 + THC-P + THC-X


HaHa Psycho Punch

 (Hybrid/Sativa) - D8 + THC-P + THC-X


Blue Magic OG X

 (Hybrid/Sativa) - D8 + THC-P + THC-X


Shark Shock Diesel

 (Hybrid/Sativa) - D8 + THC-P + THC-X


Alien Bubba Berry (Hybrid) - 

D8 + THC-P + THC-X


Lazer Lime Haze

 (Hybrid) - D8 + THC-P + THC-X


Amanita Dream

 (Hybrid) - HHC + HHCP


Octane Orange XL

 (Hybrid) - D8 + THC-P + THC-X

Packaging Includes:
1x ELF THC THC3000 Disposable Vape Device