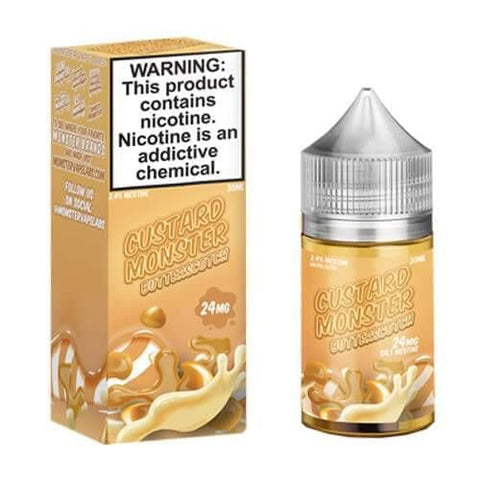 CUSTARD MONSTER SALT - BUTTERSCOTCH CUSTARD 30ML
Prepare to be captivated by the latest creation from Jam Monster's ever-expanding lineup. Custard Monster Butterscotch combines the velvety smoothness of cream with the decadently rich flavor of butterscotch, delivering a nostalgic taste sensation that will leave you craving more.

Discover the Divine Flavor of Custard Monster Butterscotch
With every puff of Custard Monster Butterscotch by Jam Monster, your taste buds will be enveloped in an irresistible fusion of luscious cream and the distinct notes of indulgent butterscotch. From the very first inhale to the lingering exhale, this sweet dessert vape guarantees a delightful experience from start to finish. As the creamy essence mingles with hints of butterscotch on the inhale, the exhale leaves behind a lingering temptation that beckons you to revisit this extraordinary flavor once again. Available in a convenient 30mL bottle, Custard Monster Butterscotch is offered in 24mg and 48mg salt nicotine strengths.

Unleash the Flavorful Magic of Custard Monster
Custard Monster, proudly crafted in Orlando, Florida, boasts an exceptional collection of premium vape juices. As a prominent name in the vaping industry, it has garnered numerous awards, a devoted following, and unparalleled success. The Custard Monster line is part of the esteemed Jam Monster family, manufactured by the renowned Fresh Juice Co. Together, they have created an illustrious brand renowned for its captivating and immensely satisfying flavors. Custard Monster Butterscotch stands tall among its remarkable offerings.

Whether you're a die-hard butterscotch enthusiast or simply seeking the remarkable quality that defines Jam Monster, we urge you to experience the exquisite taste and unparalleled satisfaction of Custard Monster Butterscotch Salt. It's the perfect companion for your vape pod system, delivering an unforgettable vaping journey.
Product Details:

Brand: Custard Monster Salt
Flavor: Butterscotch Custard
Bottle Size: 30mL
Bottle Type: Chubby Gorilla 
VG/PG: 50/50
Flavor Profile: Butterscotch

 / Custard / Bakery

Made in USA
Nicotine Type: Salt Nicotine
Available Nicotine Levels: 24mg / 48mg 
Package Includes:
1x Custard Monster Salt - Butterscotch Custard 30mL