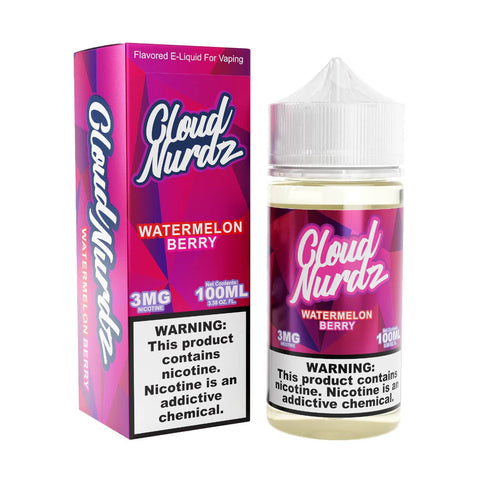 CLOUD NURDZ - WATERMELON BERRY 100ML
Indulge in a Flavor Symphony with Cloud Nurdz Watermelon Berry Vape Juice!

Prepare your taste buds for an extraordinary vaping experience as Cloud Nurdz presents a tantalizing fusion of delectable fruit flavors that harmonize in perfect balance. This sensational creation starts with the luscious sweetness of ripe watermelon, expertly blended with succulent berries and freshly-picked mountain strawberries. The result? A flawlessly-sweet, incredibly tasty, and undeniably flavorful masterpiece that will leave you craving more.

Delight in a Sweet and Refreshing Escape
Immerse yourself in the irresistible allure of Watermelon Berry. As you take a puff, the sweet essence of juicy watermelon instantly transports you to a state of pure bliss. The burst of ripe berries adds a delightful tang, while the addition of mountain-fresh strawberries provides a refreshing twist that keeps your taste buds tantalized.

Unleash the Full Spectrum of Flavor
Cloud Nurdz Watermelon Berry vape juice delivers an unparalleled explosion of flavor that will captivate your senses. Each inhale reveals a symphony of perfectly balanced fruit notes, while the exhale leaves behind an unforgettable aftertaste that keeps you coming back for more. Prepare to embark on a flavor journey that is nothing short of spectacular.

Unmatched Quality and Taste
Crafted with meticulous attention to detail, Cloud Nurdz Watermelon Berry stands in a league of its own. Every bottle is a testament to our unwavering commitment to delivering the finest vape juice on the market. Experience the epitome of taste, quality, and satisfaction with every single puff.

Unlock Your Vaping Paradise
Elevate your vaping experience with Cloud Nurdz Watermelon Berry vape juice. Our exceptional creation is designed to transport you to a world of pure enjoyment, where the perfect fusion of flavors awaits. Don't settle for ordinary when you can savor the extraordinary.

Product Details:

Brand: Cloud Nurdz
Flavor: Watermelon Berry
Bottle Size: 100mL
Bottle Type: Chubby Gorilla
VG/PG: 70/30
Flavor Profile:

 Watermelon / Berry

 / Candy 

Made in USA
Nicotine Type: Freebase
Available Nicotine Levels:

3mg / 6mg
Package Includes:
1x Cloud Nurdz - Watermelon Berry 100mL