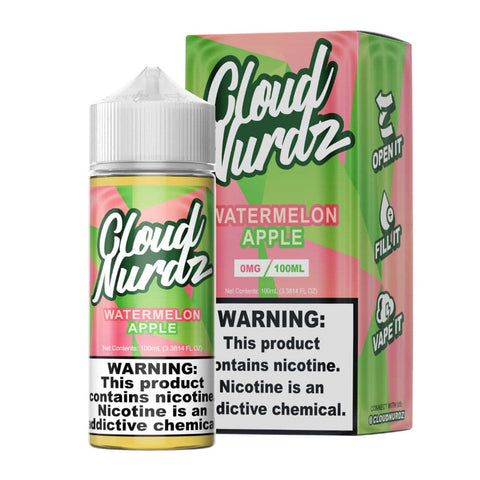 CLOUD NURDZ - WATERMELON APPLE 100ML
Discover the Unmatched Vaping Excellence of Cloud Nurdz: A Flavor Sensation!

Since its inception in 2016, Cloud Nurdz has become a renowned name in the vaping industry. Born from the collaboration of two vaping experts, it quickly rose to prominence and is now one of the largest premium vape juice brands worldwide. Award-winning and meticulously crafted by OG E-Liquids' master mixologists, Cloud Nurdz offers an extraordinary collection of vape juices that delight vape enthusiasts across the globe.

Watermelon Apple by Cloud Nurdz: The Pinnacle of Flavor
Prepare yourself for an unparalleled vaping experience with Watermelon Apple, a standout flavor in the industry. Designed to provide ultimate satisfaction with every puff, this extraordinary vape juice immerses your senses in a world of luscious flavors that exceed all expectations. As you inhale, your taste buds are embraced by the irresistible combination of juicy, sweet watermelon, followed by the crisp essence of ripe apples. The fusion of these two flavors creates a harmonious symphony on your palate, leaving an exquisite and lingering taste that will leave you craving for more.

Delight in a Convenient and Flavorful Experience
Your vaping pleasure is made effortless with the arrival of a meticulously packaged 100mL Chubby Gorilla bottle. Refilling has never been easier, allowing you to indulge in countless vape sessions. With its generous size and abundance of flavor, this bottle promises an extended period of pure vaping bliss. Available in 3mg nicotine strengths, Watermelon Apple vape juice offers a well-balanced 70/30 ratio, ensuring an optimal combination of flavor and vapor production.

Watermelon Apple: A Symphony of Flavors
Watermelon Apple by Cloud Nurdz perfectly marries two exquisitely paired flavors, resulting in a vape juice that envelops your mouth with irresistible deliciousness. Immerse yourself in the tantalizing world of watermelon apple candy-inspired delight. If you have a penchant for this unique flavor combination, you owe it to yourself to experience the extraordinary taste of Watermelon Apple vape juice.

Indulge in the epitome of vaping pleasure today and savor the symphony of flavors that Cloud Nurdz has masterfully crafted for your enjoyment.
Product Details:

Brand: Cloud Nurdz
Flavor: Iced Watermelon Apple
Bottle Size: 100mL
Bottle Type: Chubby Gorilla
VG/PG: 70/30
Flavor Profile:

 Watermelon / Apple

 / Candy 

Made in USA
Nicotine Type: Freebase
Available Nicotine Levels:

0mg / 3mg / 6mg
Package Includes:
1x Cloud Nurdz - Watermelon Apple 100mL