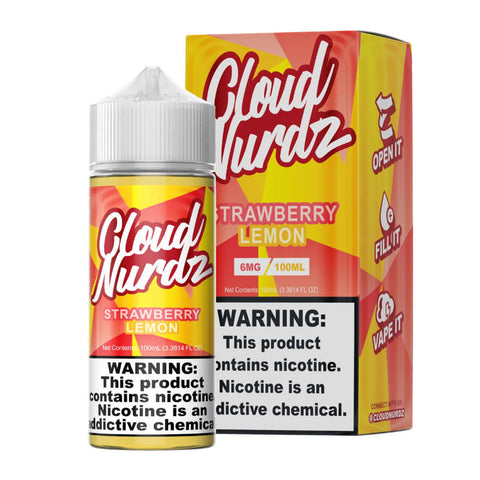 CLOUD NURDZ - STRAWBERRY LEMON 100ML
Discover the Unrivaled Flavor Experience of Cloud Nurdz - The Ultimate Choice for All-Day Vaping!

Cloud Nurdz, the renowned vape juice brand with numerous accolades, has taken the industry by storm. Thanks to the expert mixologists at OG E-Liquids, Cloud Nurdz has become a powerhouse in the market, offering a vast array of tantalizing flavors that will leave you completely satisfied. As one of the largest vape juice brands, Cloud Nurdz has quickly become the go-to choice for vapers everywhere.

Indulge in Strawberry Lemon by Cloud Nurdz, a premium vape juice flavor crafted by the experts at OG E-Liquids. This exceptional blend captivates your taste buds by combining juicy strawberries with zesty lemons, resulting in a vaping fusion that your palate will adore. From the very first inhale, you'll experience a delightful blend of sweetness and sourness. The potent flavor and enticing fruity aroma instantly envelop your senses, preparing you for an extraordinary experience. With every pull, the irresistible combination of lusciously sweet strawberries and tangy lemons coats your tongue, delivering an explosion of delectable flavor. Even on the exhale, you'll be left with lingering notes of citrus and berry candy, as if the flavors are etched into your taste buds.

Presented in a convenient 100mL Chubby Gorilla bottle designed for easy refilling, Cloud Nurdz ensures you receive a generous amount of powerful flavor. Each bottle boasts a perfect 70/30 VG/PG ratio, striking the ideal balance between flavor intensity and dense vapor production.

Cloud Nurdz's impressive collection features an array of exceptional flavors, but Strawberry Lemon truly stands out with its bold strawberry and lemon profiles, accompanied by a delightful candy undertone. If you crave the satisfying combination of strawberry and lemon hard candy in vapor form, Strawberry Lemon by Cloud Nurdz is an absolute must-try.

Experience the pinnacle of flavor and satisfaction with Cloud Nurdz. Don't miss out on this extraordinary vaping journey. Get your hands on Strawberry Lemon and elevate your vaping experience to new heights!
Product Details:

Brand: Cloud Nurdz
Flavor: Strawberry Lemon
Bottle Size: 100mL
Bottle Type: Chubby Gorilla
VG/PG: 70/30
Flavor Profile:

Strawberry

 / Lemon / Sweet

Made in USA
Nicotine Type: Freebase
Available Nicotine Levels:

0mg / 3mg / 6mg
Package Includes:
1x Cloud Nurdz - Strawberry Lemon 100mL