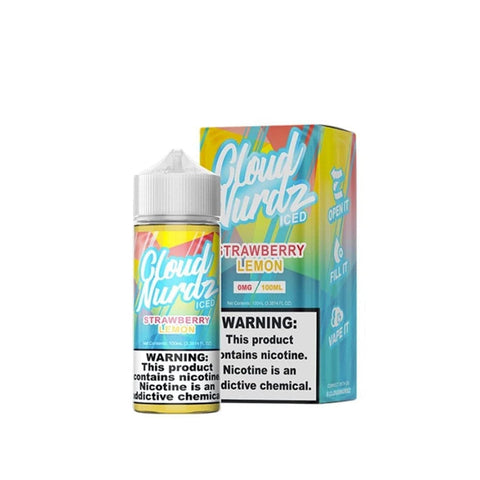 CLOUD NURDZ - ICED STRAWBERRY LEMON 100ML
Experience Vaping Excellence with Cloud Nurdz - Strawberry Lemon Iced: A Flavor Fusion That Hits the Sweet Spot!

In 2015, two industry veterans joined forces to create OG E-Liquids, birthing the manufacturing company behind one of the vaping world's most renowned brands, Cloud Nurdz. Crafted with a passion for flavor, Cloud Nurdz offers an exquisite collection of fruit and candy combinations that truly excite the palate, providing the ultimate vaping experience. Among their extensive lineup of premium vape juices, Strawberry Lemon Iced stands out as an irresistible favorite.

Strawberry Lemon Iced by Cloud Nurdz delivers an exceptional blend of two flavors that harmonize flawlessly. Renowned for its smooth and satisfying taste, this flavor has captivated vapers worldwide. Prepare your taste buds for a symphony of juicy strawberries, zesty lemons, and a bone-chilling menthol kick. With every puff, it feels as though you're sipping on a refreshing glass of ice-cold strawberry lemonade. The transformation of hard candy into a tantalizing beverage-inspired vape flavor is a true delight for your senses, allowing you to indulge in the taste over and over again.

Packaged in a convenient 100mL Chubby Gorilla bottle, refilling is a breeze, ensuring you never miss a moment of this delectable vape experience. Strawberry Lemon Iced boasts a perfect 70/30 VG/PG ratio, striking a harmonious balance between flavor and vapor production, delivering the superior vape experience it was crafted for.

Cloud Nurdz has surpassed all expectations with the extraordinary Strawberry Lemon Iced vape juice. From the luscious sweetness of ripe strawberries to the invigorating burst of citrusy lemons, enhanced by a chilling menthol sensation and wrapped in a delightful candied layer, this mentholated strawberry lemon fusion will undoubtedly satisfy your cravings.

Indulge in the vaping pleasure you deserve and elevate your flavor experience with Cloud Nurdz Strawberry Lemon Iced. Order now and savor the taste sensation that will keep you coming back for more.


Product Details:

Brand: Cloud Nurdz
Flavor: Iced Strawberry Lemon
Bottle Size: 100mL
Bottle Type: Chubby Gorilla
VG/PG: 70/30
Flavor Profile:

 Straw

berry / Lemon / Candy / Ice

Made in USA
Nicotine Type: Freebase
Available Nicotine Levels: 0mg / 3mg / 6mg
Package Includes:
1x Cloud Nurdz - Iced Strawberry Lemon 100mL