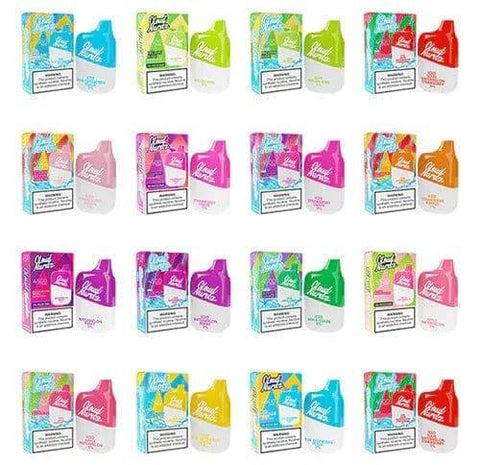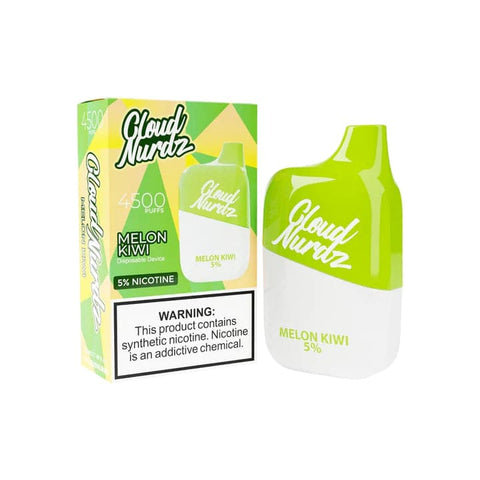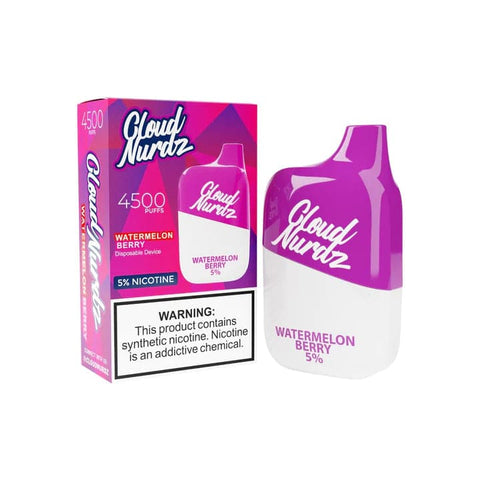 CLOUD NURDZ 4500 DISPOSABLE VAPE DEVICE - 1PC
Cloud Nurdz continues to elevate the disposable vaping experience with their latest offering, a device that is brimming with their renowned collection of expertly-crafted flavors. This time, they've outdone themselves by introducing a sleek new design, an upgraded battery, an increased vape juice capacity, and an impressive 4500 puffs. And that's not all - prepare to be captivated by an expanded array of flavor options.

Discover Cloud Nurdz Disposables:
Embracing a box-style shape while maintaining its compact size, the Cloud Nurdz Disposable Vape 4500 Puffs delivers the same level of convenience and portability you've come to expect from their disposable collection. Enjoy instant gratification as this device comes pre-filled, pre-charged, and ready to use right out of the box. Featuring an integrated rechargeable battery and an incredible 12mL vape juice capacity, this device guarantees up to 4500 puffs per unit. Each Cloud Nurdz Disposable is infused with a blend of flavors, available in a variety of tantalizing options and enhanced with either 25mg or 50mg synthetic salt nicotine. True to the disposables on the market, the Cloud Nurdz Disposable Vape boasts an automatic firing mechanism, enabling effortless vaping without the need for buttons.

A Game-Changing Addition to the Cloud Nurdz Collection:
The Cloud Nurdz Disposable Vape 4500 Puffs is a remarkable addition to the Cloud Nurdz family, solidifying their position as a frontrunner in the vaping world. While the original Cloud Nurdz Disposable Vape 3500 Puffs provided an extraordinary flavor experience, this new device takes it to the next level with an even wider range of options and an impressive puff count. If you're in search of an easy-to-use, convenient disposable vape that delivers a multitude of delectable flavors, this device is a must-have for your collection.

Don't miss out on this sensational vaping innovation! Indulge in Cloud Nurdz's finest flavors and elevate your vaping journey today. Explore our extensive selection and seize the opportunity to savor a world of taste sensations.


Device Details:
Battery: 800mAh
12ml of E-Liquid Capacity
Puffs: 4500
Heating Element: Mesh Coil
Firing Mechanism: Draw-Activated
Charging: Type-C Port
16 Flavors Available
Flavors:
Apple Watermelon




Blue Raspberry Lemon




Blue Raspberry Peach




Iced Apple Grape




Iced Melon Kiwi




Iced Sour Strawberry Watermelon




Iced Strawberry Grape




Iced Strawberry Lemon




Iced Watermelon Berry




Melon Kiwi




Mint Nurdz




Sour Strawberry Watermelon




Strawberry Grape




Strawberry Lemon




Strawberry Mango




Watermelon Berry



Package Includes: 
1x Cloud Nurdz 4500 Disposable Vape Device