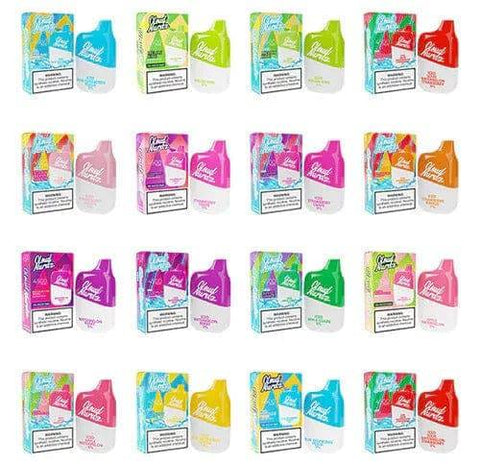 CLOUD NURDZ 4500 DISPOSABLE VAPE DEVICE - 10PK
Cloud Nurdz has once again raised the bar by introducing their newest addition to the disposable vape market. Packed with their renowned flavors, the Cloud Nurdz Disposable Vape offers a revamped design, a larger battery, increased vape juice capacity, and an impressive 4500 puffs. As an added bonus, this new lineup features an expanded range of delectable flavor options.

What Makes Cloud Nurdz Disposables Stand Out?
The Cloud Nurdz Disposable Vape 4500 Puffs features a sleek box-style shape, ensuring compactness without sacrificing convenience and portability. With its pre-filled and pre-charged design, this device is ready to use right out of the box. Equipped with an integrated rechargeable battery and an enormous 12mL vape juice capacity, each device guarantees up to 4500 puffs. Inside every Cloud Nurdz Disposable, you'll discover an expertly blended selection of flavors available in various options, infused with either 25mg or 50mg synthetic salt nicotine. As with most disposables, the Cloud Nurdz Disposable Vape boasts an automatic firing mechanism, enabling effortless vaping without the need to press any buttons.

Elevate Your Vaping Experience with Cloud Nurdz
The Cloud Nurdz Disposable Vape 4500 Puffs is an exceptional addition to the Cloud Nurdz collection, solidifying its prominence in the vaping world. While the original Cloud Nurdz Disposable Vape 3500 Puffs provided a fantastic array of flavors, this new device takes it even further, with an increased puff count stealing the spotlight. If you desire an effortless and convenient vaping solution, accompanied by an extensive selection of tantalizing tastes, the Cloud Nurdz Disposable Vape 4500 Puffs is a must-have for your collection.


Device Details:
Battery: 800mAh
12ml of E-Liquid Capacity
Puffs: 4500
Heating Element: Mesh Coil
Firing Mechanism: Draw-Activated
Charging: Type-C Port
16 Flavors Available
Flavors:
Apple Watermelon
Blue Raspberry Lemon
Blue Raspberry Peach
Iced Apple Grape
Iced Melon Kiwi
Iced Sour Strawberry Watermelon
Iced Strawberry Grape
Iced Strawberry Lemon
Iced Watermelon Berry
Melon Kiwi
Mint Nurdz
Sour Strawberry Watermelon
Strawberry Grape
Strawberry Lemon
Strawberry Mango
Watermelon Berry
Package Includes:  
10x Cloud Nurdz 4500 Disposable Vape Device