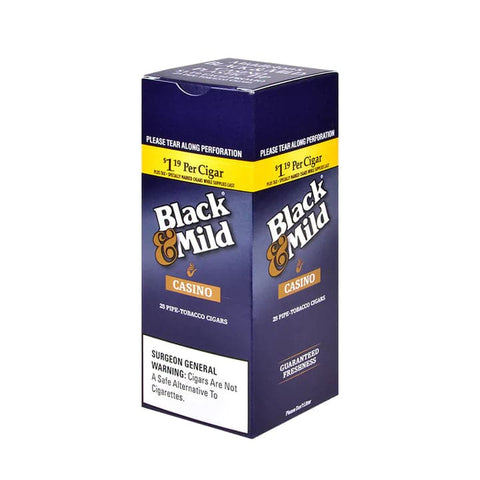 BLACK & MILD CIGAR CASINO WOOD TIP SINGLE - 25CT BOX
Indulge in the luxurious world of Black and Mild Casino Wood Tip cigars, your passport to ultimate relaxation after a demanding day. Uncover the enticing features and delightful benefits of these finely crafted cigars that effortlessly blend the best of both worlds.

Unwind in Style: Designed to help you unwind and find tranquility, Black and Mild Casino Wood Tip cigars are the perfect companion for those seeking a soothing experience. Allow the rich aroma and smooth flavor to transport you to a state of pure bliss.

Flavorful Variety: Discover a tantalizing array of flavored blends that cater to your unique taste preferences. From the delectable notes of wine and cream to the refreshing essence of apple and the sweet allure of cherry vanilla, there's a flavor to suit every mood and occasion.

The Perfect Combination: Experience the harmonious fusion of a cigar and pipe tobacco core. With Black and Mild, you can enjoy the convenience of a cigar while relishing the distinctive essence of pipe tobacco. It's the best of both worlds, elegantly crafted for your smoking pleasure.

Delicate Mildness: Savor the gentle and nuanced smoke that Black and Mild cigars are renowned for. Carefully crafted to provide a delicately mild experience, these cigars offer a refined and satisfying smoke that caters to the discerning palate.

Crafted to Perfection: Each Black and Mild cigar is meticulously manufactured by John Middleton Co., a trusted name in the industry. With a length of 5 inches and a ring gauge of 30, these cigars are expertly crafted to ensure a consistent and enjoyable smoking experience.

Immerse yourself in the world of Black and Mild Casino Wood Tip cigars, where indulgence meets sophistication. Treat yourself to moments of pure relaxation with a range of enticing flavors and the delicate mildness you deserve. Discover why these cigars are cherished by smokers worldwide. Elevate your smoking experience today with Black and Mild, the pinnacle of cigar craftsmanship.
Package Includes:
1x Black & Mild Cigar Casino Wood Tip Single - 25ct Box