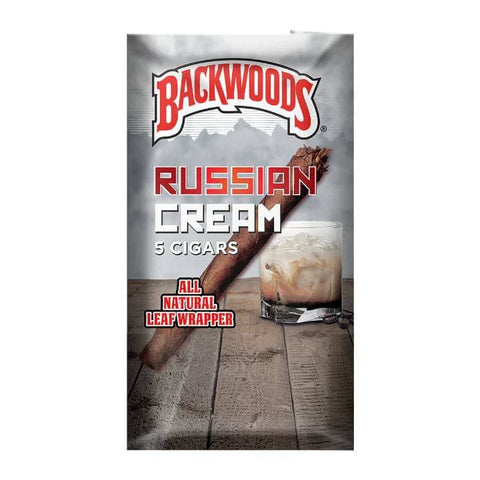 BACKWOODS CIGAR WRAPS RUSSIAN CREAM - 1PC
Experience the rare and exquisite Backwoods Russian Cream flavor, available in limited quantities. Prepare to indulge your senses with the remarkable combination of creamy coffee and vodka, creating a flavor that tantalizes your taste buds from the very first puff. But that's not all – Backwoods cigars offer far more than just tobacco. They represent a harmonious fusion of natural and homogenized tobaccos, infused with delectable flavors that add a touch of sweetness and enticing aromas.

Every cigar in the Backwoods brand is meticulously crafted using well-fermented tobacco, ensuring a smooth and refined smoking experience. Each one is carefully enveloped in all-natural Connecticut Broadleaf wrappers, providing the perfect balance for a mild yet distinctly flavorful smoke.

Discover the wide range of BACKWOODS BLUNT FLAVORS we have available for purchase on our website. Explore an array of enticing options that cater to different palates and preferences. From classic favorites to intriguing new blends, there's a Backwoods flavor to suit every discerning smoker.

Indulge in the pleasure of Backwoods cigars and unlock a world of sensory delight. Don't miss out on the opportunity to try them all – visit our website now and explore the exceptional range that awaits you!
 Package Includes:
1x Backwoods Cigar Wraps Russian Cream - 1PC