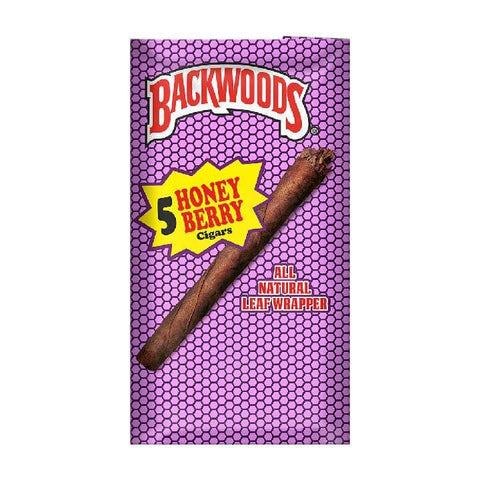 BACKWOODS CIGAR WRAPS HONEY BERRY - 1PC
Prepare to indulge in an unforgettable sensory experience with the 5 PACK BACKWOODS HONEY BERRY cigars. Immerse yourself in the enticing combination of honey and sun-ripened berries, capturing the essence of pure freshness in every puff. Brace yourself for a heavenly smoking encounter that will leave you craving more.
Infused with Caribbean Basin Cuban seeds, these exquisite cigars hail from the nutrient-rich lands of Puerto Rico, ensuring a distinct BACKWOODS FLAVOR that will tantalize your taste buds. Each one is expertly wrapped in a smooth homogenized tobacco leaf, renowned for its ability to deliver a consistently even-burning smoke that never disappoints.
With their dark brown hue, these cigars are visually appealing and offer a quick yet immensely satisfying smoking experience. Measuring from 4.5 to 32 in length and boasting a 32 ring gauge, they provide a mild yet gratifying smoke that won't overpower your senses.
Rest assured, these premium BACKWOODS CIGARS are proudly crafted in the USA, meticulously manufactured by ITG Brands in one of the country's largest and most esteemed tobacco production facilities. You can trust in the quality and expertise behind each cigar, ensuring a superior smoking journey from start to finish.
Indulge in the perfection of flavor, craftsmanship, and an unrivaled smoking experience with the 5 PACK BACKWOODS HONEY BERRY cigars. Treat yourself to the very best, and let the symphony of taste and aroma transport you to new heights of smoking enjoyment. Elevate your senses with every exhale – these cigarillos are the epitome of smoking excellence.
Package Includes:
1x Backwoods Cigar Wraps Honey Berry 5ct Box