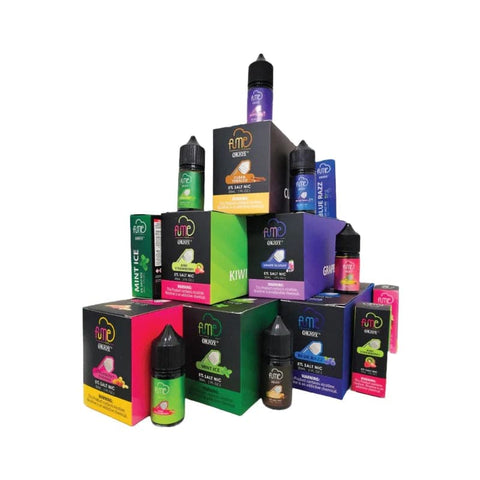 FUME VAPE E-JUICE SALTNIC 30ML
Experience the pinnacle of vaping excellence with the sensational Fume Vape E-Liquid, the latest innovation from one of the most sought-after disposable brands in the industry. Prepare to be captivated as your taste buds embark on an extraordinary journey through a multitude of delectable flavors, now conveniently offered in E-Juice form. Say goodbye to limitations and embrace the boundless possibilities that come with using refillable vape devices.

Indulge in a symphony of 11 tantalizing flavors, meticulously crafted to cater to every discerning palate. Each puff of Fume Vape E-Liquid delivers an unparalleled sensory delight, leaving you craving for more. Immerse yourself in a world of culinary bliss, where every inhale is an enchanting experience filled with rich, robust notes and perfectly balanced undertones.

Unleash your creativity and personalize your vaping experience with Fume Vape E-Liquid. Its innovative formula ensures seamless compatibility with a wide range of refillable vape devices, granting you the freedom to explore endless flavor combinations and unleash your inner mixologist. Elevate your vaping game and discover new dimensions of satisfaction.

At Vape City USA, we take pride in offering you the finest vaping products that redefine excellence. With Fume Vape E-Liquid, you're not just investing in a product, but in an elevated lifestyle. Embrace the evolution of vaping and embark on a flavor-filled adventure that will leave you craving for more. Order your exquisite Fume Vape E-Liquid today and unlock the true potential of your vape device.
Product Details:
Brand: Fume
Bottle Size: 30mL
Bottle Type: Chubby Unicorn Bottle
VG/PG: 50/50
Made in USA
Nicotine Type: Salt Nicotine
Nicotine Level: 50mg
Available in 11 Flavors
Flavors:
Blue Razz
Cotton Candy
Cuban Tobacco
Grape Slushy
Kiwi Strawberry
Lush Ice
Mint Ice
Rainbow Candy
Strawberry Banana
Tropical Punch
Unicorn
Package Includes:
1x Fume Vape E-Juice SaltNic 30mL