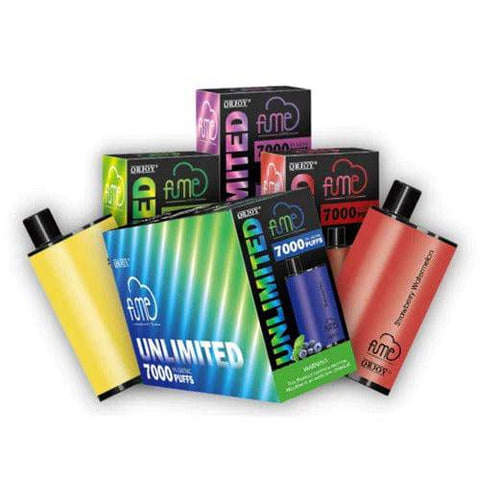 FUME UNLIMITED DISPOSABLE VAPE DEVICE - 10PK
Introducing the game-changing Fume UNLIMITED: the ultimate pre-filled disposable vape pod system that takes your vaping journey to new heights. With an astounding 7000 puffs and the ability to recharge, this revolutionary device sets a new standard in vaping excellence.

Unlock the true power of Fume with the UNLIMITED edition, an upgraded version of the renowned Fume INFINITY disposable. It's time to experience vaping like never before.

Featuring a cutting-edge USB-C rechargeable 400mAh built-in battery, the Fume UNLIMITED ensures uninterrupted vaping pleasure. No more worries about running out of power when you need it most.

But that's not all—prepare to be amazed by the colossal 14mL capacity of the Fume UNLIMITED. Packed with delicious pre-filled e-liquid, this device ensures a prolonged and flavorful vaping experience that surpasses all expectations.

Discover the next level of vaping satisfaction today. Dive into our exclusive collection of disposable vape bundles and elevate your vaping game to new heights. The Fume UNLIMITED is here to redefine your vaping journey—don't miss out on this unparalleled experience.
Device Details:
Size: 14ml
Nicotine Strength: 5.0%
Battery Capacity: USB-C Rechargeable 400mAh (cable not included)
Puff Count: 7000+ Puffs
Flavors: 22 Available Flavors
Flavors:
Apple Peach

Banana Ice

Black Ice

Blueberry Mint

Bluerazz Pomegranate

Cotton Candy

Lush Ice

Melon Ice

Mint Ice

Peach Ice

Peach Mango Watermelon

Pina Colada

Pineapple

Pistachios Ice Cream

Pistachios Milk Cereal

Purple Rain

Rainbow Candy

Strawberry

Strawberry Mango

Strawberry Watermelon

Tropical Punch

Watermelon Bubblegum
Package Includes:  
1x Fume UNLIMITED Disposable Vape Device