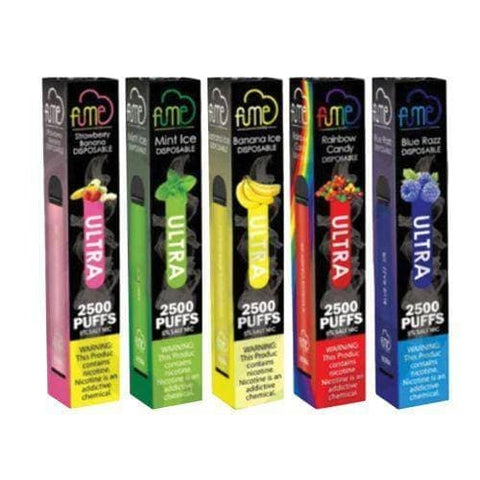 FUME ULTRA DISPOSABLE VAPE DEVICE - 10PK
Introducing the Fume ULTRA, the ultimate vaping companion you've been waiting for! This remarkable pre-filled disposable vape pod system device is not only sleek and compact, but it's also incredibly pocket-friendly, making it a breeze to carry wherever you go.

Experience vaping bliss like never before with the Fume ULTRA Disposable. With an impressive capacity of 2500 puffs, this long-lasting device is engineered to keep you satisfied for extended periods. Powered by a robust 1000mAh built-in battery, it ensures uninterrupted enjoyment, while the massive 8ml pre-filled pod, brimming with delectable e-liquid, tantalizes your taste buds like never before.

But that's not all! At Vape City USA, we believe in offering you the best value for your money. That's why we've curated an extensive collection of disposable vape bundles, allowing you to explore a range of flavors and find your perfect match.

Say goodbye to inconvenience and hello to unparalleled vaping pleasure with the Fume ULTRA. Elevate your vaping experience today!
Device Details:
Size: 8ml
Nicotine Strength: 5.0%
Salt Nicotine equivalent to about 1 pack of cigarettes
Battery Capacity: 1000mAh
Puff Count: 2500+ Puffs
Flavors: 33 Available Flavors
Flavors:
Banana Ice

Black Ice

Blue Razz

Blueberry Cotton Candy

Blueberry Mint

Bubblegum

Coffee Tobacco

Cotton Candy

Cuban Tobacco

Desert Breeze

Double Apple

Fresh Lychee

Grape

Gummy Bears

Lush Ice

Mango

Mint Ice

Melon Ice

Peach Ice

Pina Colada

Pineapple Ice

Pink Lemonade

Purple Rain

Rainbow Candy

Raspberry Watermelon

Strawberry

Strawberry Banana

Strawberry Mango

Strawberry Watermelon

Tangerine Ice

Tropical Fruit

Unicorn

Yogurt Ice Cream
Package Includes:
1x Fume ULTRA Disposable Vape Device