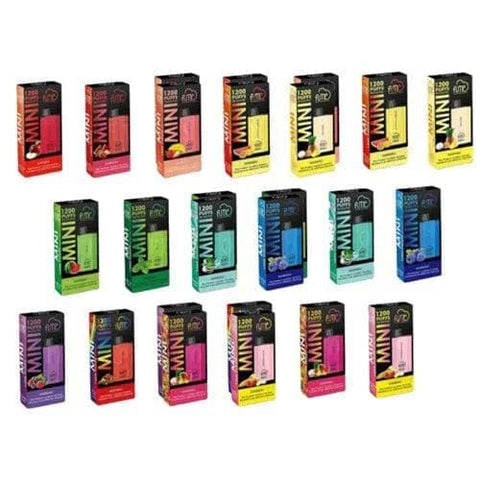 FUME MINI DISPOSABLE VAPE DEVICE - 10PK
Discover a vaping experience like no other with the Fume MINI, a revolutionary pre-filled disposable vape pod system. This compact marvel, inspired by its predecessor, the Fume INFINITY, brings you the same exceptional performance in a smaller, sleeker design, making it the ultimate companion for your on-the-go adventures.

Unleash your senses and indulge in over 1000 puffs of pure vaping bliss. The Fume MINI's longevity sets it apart, ensuring you enjoy prolonged satisfaction without the need for frequent replacements. With a mighty 400mAh built-in battery and a generous 3ml pre-filled pod infused with delectable e-liquid, this device guarantees an immersive and flavorful vaping experience.

Explore our exclusive collection of disposable vape bundles, curated to cater to all your vaping desires. Choose from a staggering selection of 17 tantalizing flavors, each meticulously crafted to captivate your taste buds and leave you craving for more.

Unlock the potential of the Fume MINI and elevate your vaping journey to new heights. 
Device Details:
Size: 3ml
Nicotine Strength: 5.0%
Battery Capacity: 400mAh
Puff Count: 1000+ Puffs
Flavors: 17 Available Flavors
Flavors:
Ice Mint

Purple Rain
Pina Colada
Rainbow Candy
Double Apple
Tropical Fruit
Black Ice
Lush Ice
Strawberry Watermelon
Strawberry Banana
Blue Razz
Watermelon Lemonade
Strawberry Mango
Raspberry Watermelon
Blueberry Cotton Candy
Desert Breeze
Package Includes:  
10x Fume MINI Disposable Vape Device